Nelson Marlborough Institute of Technology
Home ›
Nelson Marlborough Institute of Technology
NMIT Homepage domestic from NMIT NZ on Vimeo.
Nelson Marlborough Institute of Technology is a high-quality Government-owned tertiary education provider which is based at the top of the South Island in New Zealand.
Kia ora tatou
For over 100 years, Nelson Marlborough Institute of Technology has been providing high-quality tertiary education for students just like you. Our internationally talented staff are entirely dedicated to giving you the real-world skills and a recognised qualification to embark on the career you deserve.
I know you'll find that future right here, at NMIT.
Liam Sloan, Chief Executive
Brooke Cagle / Unsplash
Our history
Tā mātou kōrero tuku iho
For over 110 years, NMIT has been providing tertiary education in the Top of the South. We have our origins in the Nelson Technical School, which opened in Hardy Street, Nelson in 1905.
Nelson Technical School Opens
The Nelson Technical School (the forerunner of NMIT) was set up in 1904 and the building was designed by Stead Ellis, a trained architect and secretary to the Nelson Education Board. The doors opened in 1905, initially offering classes in cookery, engineering, woodwork, commerce, craft, secretarial and plumbing. The land that the building sits on was donated by Nelson City Council and construction was led by John Scott Jnr at a cost of £1124. In 1930, the Technical School was merged with Nelson College with many part-time hobby classes and a few vocational courses being offered. Nelson Polytechnic officially became a technical institute in 1971.
Supporting the Region's Key Industries
From the beginning, it was felt that the institute's future lay with the key industries of the region. Over the years new programmes have come and gone, but our focus has always remained on providing training to support key local industries and services.
A Time of Expansion
The 1980s and 90s saw Nelson Polytechnic expanding operations in Tasman and Marlborough. In 1985 Nelson Polytechnic and Blenheim Borough Council leased land in Budge Street, Blenheim from local horticulturist Ralph Ballinger and the $300,000 Ballinger Horticulture Centre was opened the following year. This later became the Marlborough campus which expanded throughout the 1990s/early 2000s with the development of new programmes in areas such as viticulture and wine and aviation engineering. Nelson Polytechnic also opened new campuses in Richmond (1988) and in Motueka (1989). In 1992, we began offering education to degree level for the first time, with the introduction of the Bachelor of Commerce. In 1995, the Richmond campus was moved from Salisbury Road to a new 4.5-hectare site in Lower Queen Street with programmes focussed on horticulture, forestry and other primary industries. The Motueka campus closed in 1993, with some programmes relocated to Richmond or Nelson.
Nelson Polytechnic becomes Nelson Marlborough Institute of Technology
In 2000, we changed our name from Nelson Polytechnic to Nelson Marlborough Institute of Technology, to better reflect our wider regional focus. At the end of 2006, all programmes being run at the Richmond campus were relocated back to Nelson and the Richmond campus was leased to another training provider, Skills Update which continued to run training programmes from the site.
International Education
Since the mid-1990s, we have attracted significant numbers of international students. We have also formed offshore partnerships with a number of institutions in America, Brazil, Denmark, France, Germany, Italy, Japan, Mexico, Netherlands, Norway, Spain and Sweden.
NMIT Today
Today, the provision of tertiary education in the Top of the South continues. We are the Nelson-Marlborough region's largest education and training provider, making a substantial contribution to the regional economy. We offer over 100 qualifications from certificate through to postgraduate level and we have developed specialisms in areas such as aquaculture, maritime/marine, viticulture & wine and aviation/aviation engineering.
An extraordinary NMIT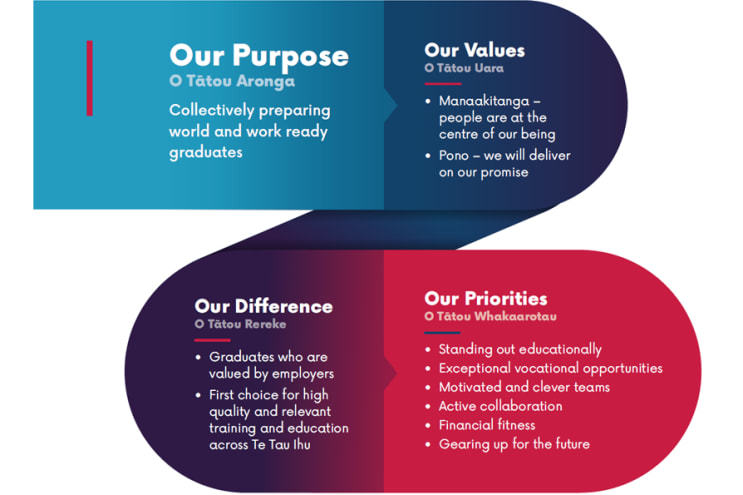 Our strategic goals
Standing out educationally
NMIT punches above its weight.
Internationally recognised, we are an educational standout in New Zealand's tertiary education network; an NZQA Category 1 provider in the top 25% of Institutes of Technology and Polytechnics for course and qualification completion rates - a position we are proud of.
We help people progress from one level of qualification to the next, removing barriers that might be in their way. Learners do well here because the focus is on "achievement by all".
Knowing that perfection is a journey, we actively listen to make the NMIT experience better.
Exceptional vocational opportunities
Doors open for NMIT graduates.
With input from industry and a finger on the global pulse, our polished programmes teach what's needed for people to do well in their chosen vocation. Employers want our learners for work placements because when they have finished their qualification, they are ready for work.
We are efficient and nimble, moving with the times to strengthen our programme areas, proudly wearing the label "provider of choice" for a number of sectors.
In particular, with a high chance of getting a job after graduating, people seek out our industry backed specialisms, such as aquaculture, maritime, aviation engineering, conservation, viticulture and winemaking.
Motivated and clever teams
NMIT is an awesome place to work.
The best people choose to work at NMIT; leaders who are clever and motivated to look for opportunities and problem-solve; people who we invest in and whose successes are widely celebrated.
Our unique recruitment process involves people from across campus, including learners, helping to build a team of industry-savvy tutors who deliver informed programmes in a modern workplace.
We are inclusive and flexible, living our values of Manaakitanga and Pono.
Active collaboration
NMIT is always an active team player.
Being in the know helps us remain relevant to what school leavers are looking for and what is needed in the workplace. Understanding our drive to prepare world and work-ready graduates, others willingly work with us to improve our programmes and involve us in regional initiatives.
We collaborate with other technical institutes and polytechnics, teaching some of their programmes and sharing knowledge and resources. Likewise, we have strong relationships with NZQA and TEC, as we work together to make sure the best is available for learners.
Financial fitness
NMIT is a skilled financial manager.
Being financially fit is pivotal to our reputation, attractiveness as an employer, and our ability to invest in our people, infrastructure, campuses, and research and development.
The NMIT financial journey is transparent – from robust budget setting to regular reviews and re-forecasting throughout the year. With powerful data at their fingertips, our departments are accountable for making the right decisions, tracking their own finances and seeing how they fit into the bigger picture.
We look to extend existing revenue streams and add new ones. One major piece of our work is the Capital Asset Management (CAM) Plan, which looks at how we can better use our land to invest in the future.
Gearing up for the future
NMIT is well-prepared for today, and tomorrow.
We understand who the future learner might be and what they might need. Therefore, we are well-equipped with modern technology, embracing digital tools that are flexible and useful for people's work and lifestyles.
The Capital Asset Management (CAM) Plan helps us better understand our physical space – how our real estate is used now and by who, and how our multipurpose facilities should be used in the future. It underpins our roadmap for campuses in Nelson and Marlborough, so we can deliver the best for our learners and for us, while effectively connecting us with the city and town.
Locations
Nelson
Address
Hardy Street,322
7010
Nelson
,
Nelson
,
New Zealand
Richmond
Address
390 Lower Queen Street
7020
Richmond
,
Tasman
,
New Zealand
Blenheim
Address
85 Budge Street
7240
Blenheim
,
Marlborough
,
New Zealand