Sushi, Shiawase, Sekai
(Sushi, Happiness, World)
We want to create happiness all over the world with Sushi. Our goal is to train leaders of Japanese cuisine, such as sushi, and to pursue people's happiness by spreading, developing and heightening the value of Japanese cuisine in the world. Since its foundation in 2002, Tokyo Sushi Academy has been attracting attention from both domestic and international media as the first school to train sushi chefs in Japan and the only one that teaches sushi to professional chefs in English. We have more than 4,000 alumni and they found a new career in over 50 countries since TSA was established 2002.
■How class goes?
You can check out our school life on youtube by simply clicking the above link; https://www.youtube.com/watch?v=l-vBNUdUfMU
Tokyo Sushi Academy was introduced by Reuters/TRT world on youtube recently. I think this 3min TV program helps you to understand more about our school! https://www.youtube.com/watch?v=g9bpBT3K0NU
We post a photo of daily class on our facebook page. https://www.facebook.com/tokyosushiacademytsukiji/
■Our Graduates
We have more than 4,000 alumni and they found a new career in over 50 countries since TSA was established 2002. One of our graduate from Greece was named among the world's 100 top chefs at the award ceremony of the first Chefs World Summit in November 2017. http://www.ekathimerini.com/214141/article/ekathimerini/life/greek-sushi-master-among-worlds-100-best-chefs http://www.ekathimerini.com/214141/article/ekathimerini/life/greek-sushi-master-among-worlds-100-best-chefs
WHY SUSHI/JAPANESE CUISINE?
Japanese cuisine loved in the world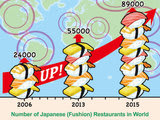 According to the survey conducted by Japan's Ministry of Agriculture, Forestry and Fisheries, Japanese restaurants or Japanese fusion restaurants drastically increased their number from about 24,000 in 2006 to 55,000 in 2013 and 89,000 in 2015.
"Japanese cuisine," the most favorite foreign cuisine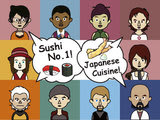 In the survey about favorite foreign cuisine, people in China, Hong Kong, South Korea, Taiwan, France and Italy selected Japanese cuisine as their most favorite. (2013 Japanese External Trade Organization)
Japanese chefs remaining in the country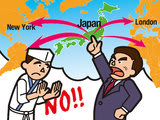 Despite high demand in the world, today's Japanese chefs tend to remain in a comfortable environment of their own country and thus Japanese-cuisine chefs are much needed in the world.
Trend of "Dashi" "Umami"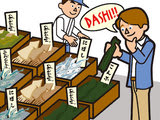 "Dashi" and "Umami," the fundamental components of Japanese cuisine, are attracting attention from all over the world. Chefs of world-renowned restaurants visit Tokyo to learn Japanese cuisine.
Successful cases of Japanese/ Japanese fusion cuisine
Japanese fusion restaurants, such as Nobu, Zuma, and Morimoto, have become a food trend in the world.
Successful cases of Edo-style sushi restaurants in the world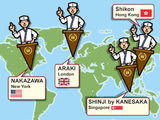 Due to the development of distribution systems in the last decade, it became possible not only for high-class restaurants in Tokyo but anywhere in the world to have seafood directly transported from the Tsukiji fish market. As discerning customers increase, high-end Edo-style sushi restaurants proved successful in Hong Kong, New York, and Singapore.
WHY TOKYO/TSUKIJI?
Tokyo, the most competitive area for restaurants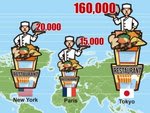 With the population of over 12 million and more than 150,000 restaurants, Tokyo is known as the most competitive area for restaurants in the world. The city features not only Japanese but also Chinese, Italian, French and Thai restaurants and you can enjoy high-quality dishes for prices starting at JPY500 (approx. $4).
Michelin acknowledges Tokyo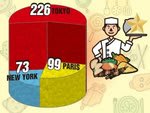 In 2015, 226 restaurants in Tokyo earned stars in the Michelin guide. The city leaves Paris far behind, which ranked second with 99 restaurants, and proves that it earned high reputation among gourmets.
Kappabashi-The Street of Restaurant Goods Suppliers Kappabashi, famous as the Street of Restaurant Goods Suppliers, is located about 30 minutes by train from Tsukiji. The street is lined with shops of kitchen knives, fake display food or kitchen equipment and attracts those involved with food industry around the world. You can find restaurant equipment as well as tools for chefs.

Large-scale food events Tokyo hosts large-scale food-related events, such as Foodex Japan, which is held in every March as the largest exhibition of the restaurant business in Asia, or Japan International Seafood Show in August. The city enables you to build up your network within the food industry.
Tsukiji Tsukiji School is located within 5-minute distance on foot from the world-renowned Tsukiji fish market. You can build up your network with suppliers at the market for world's best ingredients.

Four seasons By experiencing spring, summer, autumn, and winter, you can feel the seasonal essence of Japanese cuisine and sushi. This is the experience you can have only in Japan.

Your own activities in Japan On the weekend and holidays, you can enjoy your own activities, such as skiing, taking a hot spring bath, viewing fireworks or cherry blossoms, joining hot pot parties or drinking at Izakaya (a Japanese-style pub).

WHY TSA?
Previous achievements and network Since TSA's foundation in 2002, more than 4,000 alumni found a new career in over 50 countries. You can meet chefs coming from all over the world in pursuit of the same goal and heighten your intellectual motivation or find new business partners.

The only school that teaches authentic Japanese cuisine in English TSA (Tokyo Sushi Academy) is the only school where you can learn authentic Japanese cuisine in English. There are other schools for Japanese cuisine, but they teach in Japanese and require language proficiency of the JLPT N-2 level (business-level).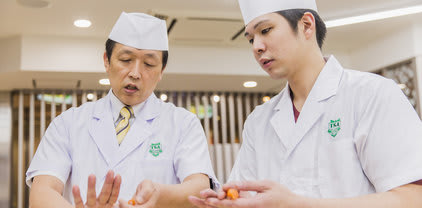 Instructors Outstanding soccer players do not always make outstanding coaches. Similarly, cooking instructors need experience and sense. In the field of sushi and Japanese cuisine, which requires chefs to "watch and learn," our passionate instructors will take advantage of their experience in teaching foreigners and answer each of your questions.

Practical lessons + resources TSA features not only practical lessons using various fish and ingredients but also wide-ranged English resources about sushi and Japanese cuisine. These resources will allow you to learn diversely, ranging from the history of sushi and Japanese cuisine to their latest trend.

Activities We also offer activities outside the classroom, including field trips to Tsukiji and Kappabashi, so that you can learn Japanese cuisine from different perspectives.

Support for life in Japan TSA will support you to the best of our ability before and after you arrive in Japan so that you can enjoy your stay in Tokyo; we will help you with the search for housing and preparation for life in Japan by providing an orientation and safety protocol in the event of earthquakes.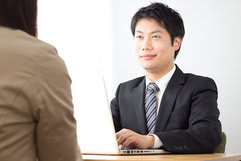 Career support After you graduate TSA, we will assist you in changing jobs or opening a business.

Locations
Tokyo
Tokyo Sushi Academy
Address
2F KY Bldg, 4-7-5 Tsukiji, Chuo-ku, Tokyo, Japan
160-0023
Tokyo
,
Japan