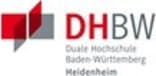 Baden-Wuerttemberg Cooperative State University
Home ›
Germany ›
Baden-Wuerttemberg Cooperative State University
Internationalization is one of the most important strategic goals of Baden-Wuerttemberg Cooperative State University Heidenheim. Surveys showed that more than 35% of our students spend one semester abroad. This figure is well above average and the rate of outgoing students exceeds even those of big universities like Heidelberg or Tübingen. We have partner universities worldwide where students can either spend a semester abroad Study Exchange or do an internship in an international company Work Exchange.
The dual system of learning
The dual system of education, which provides a practice-oriented education involving both, employers as well as state-run academic institutions, has a long tradition in Germany. "Duale Hochschule Baden-Wuerttemberg" - Baden-Wuerttemberg Cooperative State University - represents the extension of this dual system of learning into the field of higher education. The University of Cooperative Education expanded much faster than anticipated by the planners. The increasing number of students reflects the growing demand for junior staff with a practice-oriented educational background in business, industry and social institutions. The typical employer will offer a traineeship to the student with the firm intention of ultimately taking the successful graduate into permanent employment. In fact, almost 90% of our graduates already have a work contract when they take their final exams.
Locations
Heidenheim
Address
Marienstraße 20
D-89518
Heidenheim
,
Baden-Württemberg
,
Germany