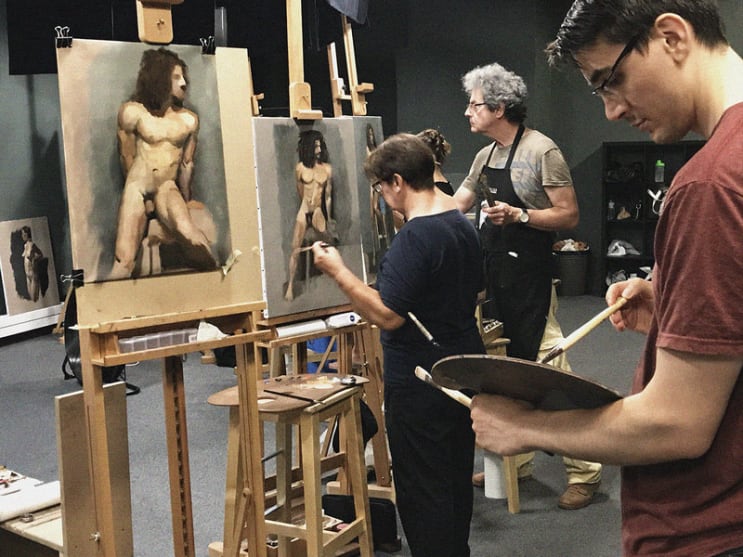 Presentation - A Commitment
The Paris Academy of Art is an art institute dedicated to high-level realist painting and drawing techniques.
The Academy is open to all those who, regardless of age, nationality or background, want to acquire the skills needed to become accomplished at realist painting or drawing.
By enrolling in the Paris Academy of Art, you are following in those illustrious footsteps and continuing a rigorous, demanding, excellence-based artistic tradition. Just as in other artistic disciplines, drawing and painting require precise and rigorous training, guided by the best art masters. The Paris Academy of Art offers a focused, excellence-oriented environment that favours that training.
It also emphasises the professor-student relationship, helping the student make progress under the best conditions. Class sizes at the Paris Academy of Art are small and each student is individually supervised.
By the end of their time at the Paris Academy of Art, students will have the necessary skills to work in fields as varied as cinema, animation, video games and illustration. They may also choose to work as freelance artists. Whatever their choice may be, the Paris Academy of Art will provide them with the tools they need to achieve their goal.
History - A Renaissance
Throughout the nineteenth century, the Parisian School of Fine Arts was a must for apprentice artists. They only learned drawing there, however, so students would also enrol in private academies where they would practice drawing from live models and complete their training in painting and sculpture.
The start of the twentieth century marked the emergence of modern art and the rejection of the strict rules taught in academies. Faced with this new situation, the academies declined. Fortunately, many students who trained in those academies had come from abroad, in particular from the United States. Some of them were able to establish studios in their home countries, thus perpetuating the academy technique.
During the 1980s, some Anglo-Saxon artists returned to Europe and founded schools, thus bringing the teaching of academy-based, realist drawing and painting back to Europe.
But none of those schools was in Paris! The Paris Academy of Art, therefore, wants to bring a major academy back to Paris and carry on the teaching that represents a cornerstone of our artistic heritage.
Method -

Excellence
Our method is both gradual and intensive and follows that which was used in the nineteenth-century Parisian studios.
It pushes students to surpass themselves, allowing them to acquire the confidence they need to have a career as a high-level artist.
It is underpinned by four foundations:
the teaching of the fundamentals of painting and drawing by relying on the masters of the Italian Renaissance;

individual supervision: each student benefits from personalised supervision, through observing and analysing the work of others is essential;

controlled progression: each step in the learning process, defined ahead of time with instructors, must be acquired before moving on to the next step;

drive and a desire to work: studies are full time (more than six hours per day five days a week), allowing students to develop the self-discipline which will be essential to their future professional lives.
Locations
Bois-Colombes
Address
Rue Raspail,78
92270
Bois-Colombes
,
Île-de-France
,
France