Quito Direct Enrollment - Universidad San Francisco de Quito
Home ›
Courses ›
Quito Direct Enrollment - Universidad San Francisco de Quito
Read more about this program on the school's website
Program Description
Earn U.S. Credits Virtually This Summer
Get ahead! Earn extra credit through a globally recognized U.S. education program this summer on our Virtual World DiscoverIES program.
Just picture it: one day you're exploring business ethics with a professor in London and the next it's Japanese pop culture from Tokyo, studying alongside classmates from the U.S.'s highest-ranked colleges and universities. This is what it's like to take a course or two (of your choosing!) from IES Abroad's most popular centers around the world this summer.
Learn more about how you can discover the world through IES Abroad.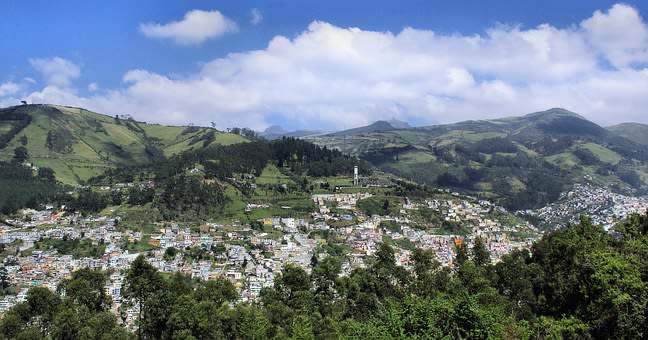 Why Quito?
Quito is perfect for the adventurous soul. With its surrounding mountains, you're always just a climb away from a breathtaking view of the valley and from a bird's-eye view of the colonial Spanish architecture that makes the city famous. Plus, Quito is a great base for trips to the rainforests and marine habitats that make Ecuador famous around the world. We invite you to Ecuador to improve your Spanish while enjoying all that this amazing country has to offer.
What You'll Study
While in Quito, directly enroll at the Universidad San Francisco de Quito (USFQ) and take your courses at the University alongside local students. Founded in 1988, USFQ is one of the most distinguished private universities in Ecuador and has the largest international exchange program in the region, with more than 100 agreements with universities throughout the world. The University has a faculty that includes almost half of the Ph.D.'s in the country.
Because USFQ offers nearly 1,500 courses each semester in a wide variety of disciplines, students with almost any academic interest can find exciting and challenging enrollment options. You also have the option to enroll in the IES Abroad Service Learning Seminar.
USFQ's beautiful campus is located in an attractive suburb about 40 minutes by bus or 15 minutes by taxi from central Quito. During the semester, you will live in the suburb of Cumbayá, close to campus. Through USFQ's extracurricular program, you have the opportunity to participate in events and clubs, such as its film club, ecology club, and sports teams.
Daily Life
In addition to the services provided through the University, we want you to feel at home in Quito, so we do everything we can to help you integrate into life in the city. From a special orientation program, field trips, cultural events, and more, our job is to make sure you have the most authentic study abroad experience possible.
Academics
IES Abroad's mission is simple: to provide you with the best study abroad program possible—which includes the highest quality academic and cultural experiences. That is why we partnered with the Universidad San Francisco de Quito.
Universidad San Francisco de Quito (USFQ)
USFQ offers nearly 1,500 courses each semester in a variety of disciplines. You take all of your courses at USFQ (excluding service-learning seminars) and carry 15 to 19 credits per semester. You are required to take a Spanish language course and are allowed to participate in any course in any department provided you meet the discipline and language prerequisites, as demonstrated on the Spanish language placement exam.
Specific course listings are available through the USFQ website: https://evaluaciones.usfq.edu.ec/banner/ssb/cursos2019.php?perfil=69856454f9402120c9430e12167c3499
The following are some of the numerous disciplines in which IES Abroad students have previously enrolled.
Architecture
Arts
Business Administration
Communications
Culinary Arts
Education
Engineering
Health Science
Hospitality
Humanities & Economics
Languages
Management
Mathematics
Sciences
Social Sciences
Spanish Language
In addition to your courses at USFQ, you can participate in a service-learning placement and enroll in the IES Abroad seminar, IN/SL395 Internship and Service Learning Seminar (4 credits).
Courses
SL 395 - Service Learning Seminar
Advising & Support
In a direct enrollment program, you are enrolled as a full-time student at one of our international partner institutions. Even though your local host institution is where you'll take your classes, we're still here to fully support you.
Advising
Choosing and directly enrolling in courses abroad can be confusing and overwhelming—we offer you predeparture advising that's specific to your needs. Our goal is to provide support and guidance throughout your application and enrollment process.
But our advising services don't stop there. While you're in Quito, our staff is available to help you transition into your new home.
On-Site Staff
As an IES Abroad student directly enrolled at Universidad San Francisco de Quito (USFQ), you have access to on-site IES Abroad staff who are specifically dedicated to your needs. Our on-site staff work with you and your local institution to answer any questions about academic requirements, housing, or well-being and safety.
Support
Our support services for direct enrollment students are specifically designed to help you achieve your study abroad goals as effectively and smoothly as possible. We know studying abroad is an adventure, and, at times, you may need help or just someone to talk to—that's why our staff is there for you.
Service Learning
Participating in a service-learning experience in Quito is an opportunity to give back to the community while gaining a much deeper understanding of the city's culture and society. Working alongside local people toward a common goal, you experience first-hand some of the social and economic issues that affect Quito while contributing your skills toward a community-driven solution.
A service-learning experience consists of time spent with a local organization, accompanied by an academic, for-credit service learning seminar. Through the seminar, you have structured time for reflection, discussion, and research on the issues of your host community.
Possible placements may include organizations focusing on:
Community health
Economic development
Social issues unique to Quito
Field Trips & Events
Even though your adventure starts in Quito, our field trips take you beyond the city to discover the cultures and traditions of your host country. There is an additional fee for multi-day field trips; the Otavalo trip is included in the program cost. Here are a few possible destinations.
Amazon Rainforest Region
4 Days | Fall & Spring
Hike the world's largest and most biologically diverse rainforest with a local guide.
The Galápagos Islands
4 Days | Fall & Spring
Explore the ecological diversity of the Galápagos, go snorkeling, and learn how to identify local flora and fauna.
Otavalo
1 Day | Fall & Spring | Orientation
Explore this largely indigenous town where residents are famous for weaving textiles. The "Plaza de los Ponchos" in Otavalo is the largest indigenous market in the world.
Daily Life
Part of making you feel at home in Quito is doing our best to help you feel safe and cared for. Whether it is an orientation program that makes you feel prepared, housing that is well-located and comfortable, or the field trips that take you to places off the beaten path—we're all about our student services.
Orientation
The program begins with a mandatory orientation that introduces you to the IES Abroad Quito staff, your fellow students, and the city of Quito.
Our Comprehensive Orientation & Re-Entry Experience (CORE™) begins right when you arrive and continues through the semester with activities focusing on academic and cultural adjustment. Detailed information about housing, public transportation, culture, health and safety, and other important topics are also covered.
Housing
We want to make sure that your greatest challenge is deciding which landmarks to see first or discovering the best café—not finding a place to live where you feel comfortable. We do our best to locate housing that is reflective of how the local students are living. Our goal is that when you leave Quito, it will feel like home.
As part of our direct enrollment services, we offer well-located, comfortable housing for all students, because securing housing independently can be challenging. IES Abroad's housing options reflect the local student culture and meet our safety and security standards.
Homestays - You will have a private furnished room in the home of a family or a señora in or near Cumbaya Valley. Homestay hosts provide three meals daily. You will be provided all of your bed linens and towels, and laundry is provided too.
Extracurricular Activities & Cultural Events
Redefine the way you live and learn in Quito through our cultural events and activities, such as visits to:
Participate in a Quito cultural Chiva, an open bus with a brass band that makes city tours
Attend Andean folkloric music concerts
Take workshops on making Ecuadorian meat pastries
Participate in soccer games
Visit museums and other local hot spots
University Clubs & Events
You can join a number of clubs through USFQ's extensive extracurricular program. Past students have participated in a film club, an ecology club, the school's many sports teams, and the Ecuabuddies program. Academic and cultural events are presented at the university each week and are open to you as an IES Abroad student.
Cost
Consider these prices as a starting point. We encourage you to contact your study abroad office to determine the actual cost to you when factoring in financial aid, scholarships, your home school policies, and other factors.
Spring 2020
| | | | | |
| --- | --- | --- | --- | --- |
| Term | Tuition | Housing | Insurance | Total |
| Spring 2020 | $14,220 | $3,500 | $230 | $17,950 |
Academic Year
| | | | | |
| --- | --- | --- | --- | --- |
| Term | Tuition | Housing | Insurance | Total |
| Academic Year | $25,580 | $7,000 | $455 | $33,035 |
Scholarships & Aid
Program-Specific Scholarships
John Gearen Need-Based Dublin or Developing Regions Scholarship
Up to $1,000; awarded to 2 students each year.
John Gearen, a member of the IES Abroad Board of Directors for many years and past chair of the Board for six years, is a leading real estate attorney and Rhodes Scholar who is involved in numerous philanthropic causes. Mr. Gearen has generously established this scholarship to support students who have an interest in studying on an IES Abroad Center in a developing region of the world (Argentina, Chile, China, Ecuador, Ireland, Morocco, or South Africa).
Robert McNeill Need-Based International Business Scholarship
Up to $3,000; awarded to 2 students each year.
This scholarship is named in honor of Robert McNeill, a member of the IES Abroad Board of Directors for 25 years (6 years as Chairman). Open to students who have an interest in international business. Majors might include management, marketing, economics, finance, international relations, and social and behavioral sciences.
Dr. William Louis Gaines Need-Based History or International Relations Scholarship
Up to $1,875; awarded to 4-6 students each year.
This scholarship is named in honor of Dr. William Louis Gaines, President of IES Abroad from 1974-1992. Dr. Gaines was dedicated to strengthening IES Abroad's academic framework, broadening the scope of IES Abroad locations, and securing the financial foundation of the organization.
Open to students majoring in History or International Relations.
William E. & Mary M. Dwyer Need-Based Spanish Scholarship
Ranges up to $1,000; awarded to 4-6 students each year.
These scholarships are intended for students interested in studying in a Spanish-speaking country.
Kathleen Kervin Diamond Endowed Scholarship
Up to $2,000 each; awarded to 4-6 students each year.
Kathleen Diamond is a consultant, entrepreneur, and business leader in the language services industry. In 1979, she founded Language Learning Enterprises, Inc. (LLE®), a full-service language company based in Washington, D.C. She is recognized as an early pioneer in Telephone Interpreting, launching LLE-LINK in the early 1990s. Over the next 20 years, under her leadership, the company grew into a dynamic, multimillion-dollar corporation, serving a wide range of clients, in both the private and public sectors, across the United States, and worldwide. In 2009, Ms.
Our Center
IES Abroad Quito
Situated near Quito's financial district, the IES Abroad Center is housed in a new, modern building. Features include:
Two well-equipped classrooms
Student lounge
Staff offices
Small library
Computer lab
High-speed Internet and printer access
Last updated May 2020
About the School
Everything we do is about the IES Abroad student. Our profoundly passionate team of study abroad professionals believes in creating once-in-a-lifetime educational adventures that transcend expectation ... Read More
Everything we do is about the IES Abroad student. Our profoundly passionate team of study abroad professionals believes in creating once-in-a-lifetime educational adventures that transcend expectations. Our goal is to rock the world of some 6,000 study abroad students every year.
Read less
Chicago ,
Amsterdam ,
Arles ,
Auckland ,
Barcelona ,
Beijing ,
Berlin ,
Buenos Aires ,
Cape Town ,
Christchurch ,
Dublin ,
Freiburg ,
Granada ,
London ,
Madrid ,
Milan ,
Nagoya ,
Nantes ,
New York ,
Nice ,
Paris ,
Oxford ,
Quito ,
Rabat ,
Rome ,
Salamanca ,
Santiago ,
Shanghai ,
Siena ,
Sydney ,
Tokyo ,
Puerto Ayora ,
Vienna ,
Hong Kong ,
Puerto Baquerizo Moreno ,
Cambridge
+ 35 More
Less