Dublin Direct Enrollment – University College Dublin
Home ›
Courses ›
Dublin Direct Enrollment – University College Dublin
Read more about this program on the school's website
Program Description
Earn U.S. Credits Virtually This Summer
Get ahead! Earn extra credit through a globally recognized U.S. education program this summer on our Virtual World DiscoverIES program.
Just picture it: one day you're exploring business ethics with a professor in London and the next it's Japanese pop culture from Tokyo, studying alongside classmates from the U.S.'s highest-ranked colleges and universities. This is what it's like to take a course or two (of your choosing!) from IES Abroad's most popular centers around the world this summer.
Learn more about how you can discover the world through IES Abroad.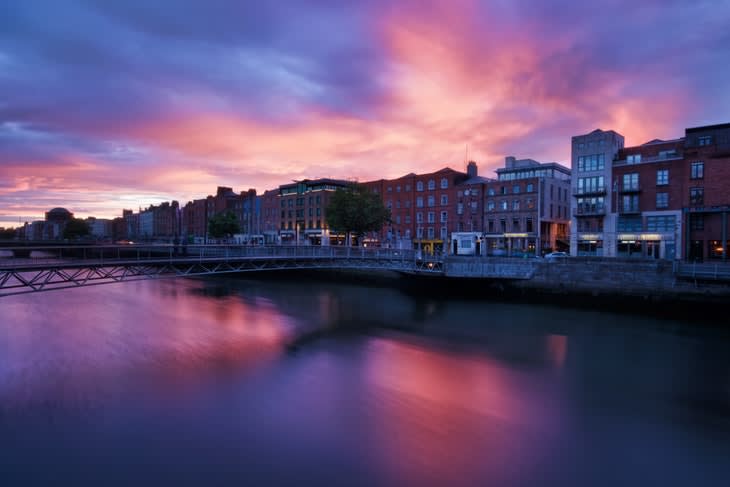 Why Dublin?
UCD is Ireland's largest university. Known for their top-ranking business school, their notable school of humanities, and their leadership in science and technology innovation, there is something for everyone at UCD.
The UCD campus in Belfield is located in the southern suburbs of Dublin, just fifteen minutes from the coast and thirty minutes to the beautiful Dublin/Wicklow Mountains. The campus stretches more than 300 acres and includes state-of-the-art facilities, museums, and woodland walking paths around campus lakes. Attend classes alongside Irish students and take advantage of all the city of Dublin has to offer young adults as more than half of the city is under 25.
What You'll Study
Dublin will also be your classroom. Take in an Irish play at Abbey Theatre, the country's national theater. Learn about Dublin's history by exploring Dublin Castle which was built in 1204. Visit Trinity College Dublin to see The 7th Century Book of Kells, a masterful example of an illuminated manuscript, that is housed in its own climate-controlled archive in the university's old library.
Join more than 27,000 students at University College Dublin pursuing a wide range of academic studies at one of Ireland's most research-intensive institutions.
Daily Life
We want you to feel at home in Dublin, so we will do everything we can to help you integrate into life in Dublin. Enrolling directly in an Irish institution through IES Abroad provides you with a chance to sample the local academic culture while still benefiting from the support of IES Abroad staff and housing.
Academics
IES Abroad's mission is simple: to provide you with the best study abroad program possible—which includes the highest quality academic and cultural experiences. That is why we partnered with University College Dublin.
Courses
You will take 6 courses during your time at UCD - 4 courses in a primary discipline, and 2 elective courses that can be either in your primary discipline or a different discipline.
When studying at UCD, you are eligible to choose from the following disciplines:
Agriculture, Food & Nutrition
Architecture & Planning*
Arts and Humanities
Business
Engineering *
Science *
Sports & Exercise Management
U.S. & International Affairs
*Enrolling in a course(s) in Architecture, Engineering, and Science requires an additional fee.
Partner Institution(s)
Founded in 1854, University College Dublin (UCD) has more than 160 years of tradition. Among its alumni are revolutionaries who participated in the struggle for Irish independence, famed novelist James Joyce, and numerous Irish Presidents and Taoiseach (Prime Ministers).
Advising & Support
In a direct enrollment program, you are enrolled as a full-time student at one of our international partner institutions. Even though your local host institution is where you'll take your classes, we're still here to fully support you.
Peer Mentors
All IES Abroad students will be linked with a peer mentor who is a second or third-year UCD student. Where possible, you will be assigned to peer mentors who have had a similar experience and have spent some time studying abroad in the United States or in another location.
Advising
Choosing and directly enrolling in courses abroad can be confusing and overwhelming. This is why we offer you predeparture advising that's specific to your needs. Our goal is to provide support and guidance throughout your application and enrollment process.
On-Site Staff
As an IES Abroad student directly enrolled at local Irish universities, you have access to the IES Abroad Dublin Center and staff who are specifically dedicated to your needs. Our on-site staff work with you and your local institution to answer any questions about academic requirements, housing, or well-being and safety.
Support
Our support services for direct enrollment students are specifically designed to help you achieve your study abroad goals. We know studying abroad is an adventure, and at times, you may need help or just someone to talk to — that's why our staff is there for you.
Field Trips & Events
Although your adventure begins in Dublin, our field trips take you to rural areas and Northern Ireland to provide contrast and context for what you are learning in Dublin. You share a portion of the cost with IES Abroad.
Northern Ireland
3 days | Fall and Spring
Take a guided tour of Belfast, visit the Giant's Causeway (a UNESCO World Heritage Site) and explore the countryside on a Game of Thrones experience tour.
Causey Farm
1 Day | Fall and Spring
Visit an open farm where you will have the chance to try Irish dancing, bake traditional Irish bread, learn to play an Irish drum called the bodhrán, and jump in a bog.
Celtic Origins of Halloween
1 Day | Fall only
Join a guided tour of historic sites around County Meath where the festival of Samhain (more commonly known today as Halloween) originated more than 2,000 years ago.
Daily Life
Part of making you feel at home in Dublin is doing our best to help you feel safe and cared for. Whether it is an orientation program that makes you feel prepared, housing that is well-located and comfortable, or the field trips that take you to places off the beaten path—we're all about our student services. This is just one of the things we're known for.
Orientation
The program begins with an orientation that introduces you to the IES Abroad Dublin staff, your fellow students, and the city of Dublin.
Our Comprehensive Orientation & Re-Entry Experience (CORE™) begins right when you arrive and continues through the semester with activities focusing on academic and cultural adjustment. Detailed information about housing, public transportation, culture, health and safety, and other important topics are also covered.
You will also participate in UCD's orientation program for international students.
Housing
We want to make sure that your greatest challenge is deciding which landmarks to see first or discovering the best café—not finding a place to live where you feel comfortable. We do our best to locate housing that is reflective of how the local students are living. Our goal is that when you leave Dublin, it will feel like home.
As a study abroad student, you will apply for student housing after your acceptance. The majority of students choose to live on campus but there is a limited number of beds also available in town.
You will live in a dedicated student residence at UCD with your own bedroom in either a four-or six-bedroom unit. Mixed-gender and single-gender apartments are available. Each accommodation has a shared kitchen and living room, either private or shared bathrooms, WiFi and a common laundry facility. No meals are provided.
Extracurricular Activities & Cultural Events
While you're at UCD, joining a social or sports club is a great way to meet other students. The college has an active student body with more than 100 clubs and societies.
Students living on campus are invited to participate in Res Life programs, which offer a range of events and activities to help you integrate into the local campus culture.
Check out the UCD Global Lounge for opportunities for cultural exchange and development. You can also join the UCD International Students' Society, which organizes a range of social and cultural events such as weekend trips to Galway and the Cliffs of Moher, pub outings, and breakfast clubs.
Cost
Consider these prices as a starting point. We encourage you to contact your study abroad office to determine the actual cost to you when factoring in financial aid, scholarships, your home school policies, and other factors.
Spring 2020
| | | | | |
| --- | --- | --- | --- | --- |
| Term | Tuition | Housing | Insurance | Total |
| Spring 2020 | $17,330 | $4,240 | $230 | $21,800 |
Academic year
| | | | | |
| --- | --- | --- | --- | --- |
| Term | Tuition | Housing | Insurance | Total |
| Academic Year | $31,175 | $9,735 | $455 | $41,365 |
Scholarships & Aid
Program-Specific Scholarships
John Gearen Need-Based Dublin or Developing Regions Scholarship
Up to $1,000; awarded to 2 students each year.
John Gearen, a member of the IES Abroad Board of Directors for many years and past chair of the Board for six years, is a leading real estate attorney and Rhodes Scholar who is involved in numerous philanthropic causes. Mr. Gearen has generously established this scholarship to support students who have an interest in studying on an IES Abroad Center in a developing region of the world (Argentina, Chile, China, Ecuador, Ireland, Morocco, or South Africa).
Robert McNeill Need-Based International Business Scholarship
Up to $3,000; awarded to 2 students each year
This scholarship is named in honor of Robert McNeill, a member of the IES Abroad Board of Directors for 25 years (6 years as Chairman). Open to students who have an interest in international business. Majors might include management, marketing, economics, finance, international relations, and social and behavioral sciences.
Study Abroad Scholarship for Future Engineers
Up to $10,000; awarded to 6 students each year.
The Study Abroad Scholarship for Future Engineers was established by an anonymous donor to encourage more engineering students to have the enriching, life-changing experience of study abroad.
Our Center
The IES Abroad Dublin Center occupies a red-brick Victorian building that was originally a post office and has been completely renovated. The Center is walking distance from St. Stephen's Green and Trinity College.
Features include:
High-speed Internet, printer, photocopier, and scanner access
A student lounge with study desks
4 laptops and 2 desktops
Classrooms
A small library and travel planning area
Last updated May 2020
About the School
Everything we do is about the IES Abroad student. Our profoundly passionate team of study abroad professionals believes in creating once-in-a-lifetime educational adventures that transcend expectation ... Read More
Everything we do is about the IES Abroad student. Our profoundly passionate team of study abroad professionals believes in creating once-in-a-lifetime educational adventures that transcend expectations. Our goal is to rock the world of some 6,000 study abroad students every year.
Read less
Chicago ,
Amsterdam ,
Arles ,
Auckland ,
Barcelona ,
Beijing ,
Berlin ,
Buenos Aires ,
Cape Town ,
Christchurch ,
Dublin ,
Freiburg ,
Granada ,
London ,
Madrid ,
Milan ,
Nagoya ,
Nantes ,
New York ,
Nice ,
Paris ,
Oxford ,
Quito ,
Rabat ,
Rome ,
Salamanca ,
Santiago ,
Shanghai ,
Siena ,
Sydney ,
Tokyo ,
Puerto Ayora ,
Vienna ,
Hong Kong ,
Puerto Baquerizo Moreno ,
Cambridge
+ 35 More
Less